Medicine Bakery was an extraordinary discovery for Matthew and I. The remarkable thing about this bakery is that it is hidden right in the middle of town, on New Street no less. While we have not yet had time to sample all of the deliciousness on offer, we have tried a fair bit and cannot but recommend this wonderful eatery and art gallery to you.
Medicine was born out of a discovery of abandoned space, of new possibilities and an inquisitive quality for creating something vital and diverse. An artisan bakery and kitchen, café and gallery, which is rooted in its heritage in both Birmingham and Wolverhampton, Medicine represents a new format of social space. It finds its niche through a carefully curated menu of ethical products, whilst offering a daily fix of cultural inspiration in an environment which promotes a debate about art and culture. Medicine
I must apologise, I have yet to take a photograph of the panoply of treats available all together. However, I have managed to capture selected goodies, for example this magnificent rosemary focaccia, made on the day. We bought three portions of this to make sandwiches which turned out quite spectacular. But one can also buy sandwiches from this bread made in store.
We feasted on these one Sunday lunch. The lower one was vegetarian, it had carrots, mushroom, salad and pesto which made for quite the sumptuous and healthy feast. Fibrous is indeed the word I would use to describe this wonderful sandwich.
Mine, however, was the meatball marinara. Biting into it was like taking a mouthful of beef ragú sauce. Just exactly correct. The sauce was so plentiful that it made the bread moist. There was just the right amount of fennel so as to not make the whole thing taste like wet dog. the red cabbage and Monteray Jack cheese was astonishing, though I would have preferred parmesan for consistency.
Take a look below at a photograph snatched from the Medicine website for an example of the fine sweet offerings at the bakery, which I shall come onto now.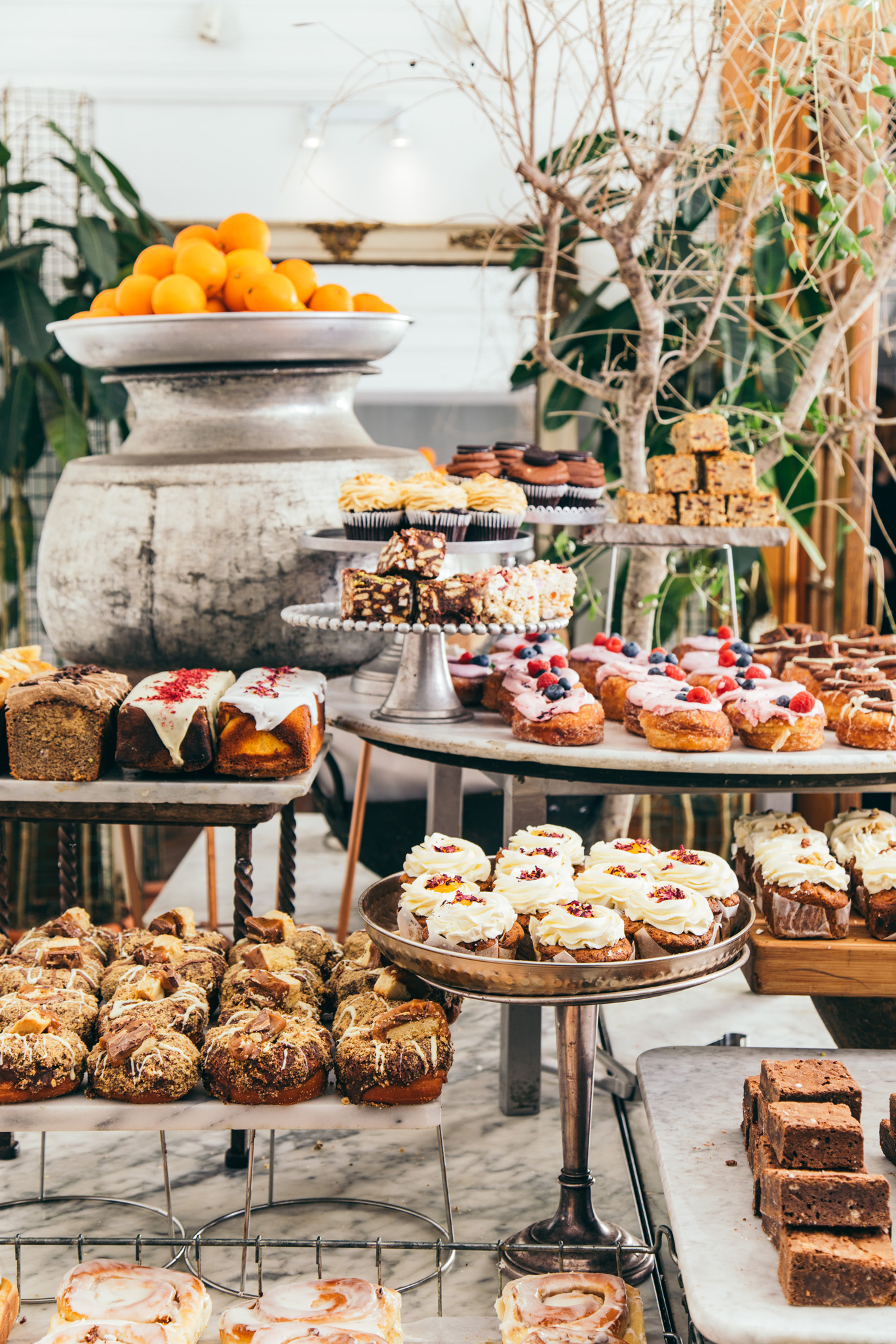 As I say I have not managed to sample everything yet, but I have had one of their vegan donuts (a tad hard for me, raspberry jam filling mind-blowing), maple and pecan Chelsea Bun (amazing), Pizzant (pizza dough made of croissant with pesto, tomato and parsley topping – there are no words) and their speciality, the mighty Cruffin.
The idea of the Cruffin is that they have made a muffin out of croissant batter. Then Medicine have topped it with chocolate icing and filled it with a hazelnut ganache, not too dissimilar to a Fererro Rocher. This was a lesson in dessert. The flavour – astounding, subtle balanced. The texture – perhaps a bit dry but wonderfully croissant like. The look – ten out of ten. This was a stunning dessert which left me speechless.
I so look forward to sampling everything else Medicine has to offer. I may well do a second review in the coming weeks. Who is to say?